Background:
According to the provisions of Paragraph 2 of Article 11 of the "Renewable Energy Development Act," the "Offshore Wind Power Demonstration Incentive Program" was formulated to encourage the industry to build offshore demonstration wind farms with the approach of budget subsidy. Three cases have been selected, and the government provided a subsidy for 50% installation expenditures of the 4 offshore demonstration wind turbines. The "Offshore Wind Power Demonstration Incentive Program" has been promulgated on July 3, 2012 as a significant basis for driving offshore wind power development.
Objective:
Installation of offshore demonstration wind turbines will be completed prior to 2016, and development of demonstration wind farms will be completed by 2020.
Incentive conditions:
Demonstration Wind Farm: Located in the sea area with a depth above 5-meter isobath; the installed zone (wind farm site) is determined by the applicant, and the total installed capacity is required to reach more than 100 MW but not exceeding 200 MW.
Demonstration Wind Turbines: Each case includes 2 offshore wind power systems, and each wind turbine is required to generate a capacity of more than 3 MW.
Incentive Fees:
Incentive fees for installation of demonstration wind turbines: The upper limit shall be 50% of the installation expenditures based on the offshore wind power initial phase of the year when the Program was promulgated, and shall not exceed 50% of the total expenditures of installed demonstration wind turbines.
Incentive fees for demonstration wind farm operations: The upper limit shall be NT$250 millions.
Program Schedule:
The Demonstration Incentive Program completed receiving applications from the industry on October 31, 2012, and a evaluation meeting was held in the afternoon on December 27, 2012. The evaluation result was officially announced on January 9, 2013, and two companies qualified for the incentive program, including "Fuhai Wind Farm Corp. Preparatory Office" and "Formosa Wind Power Co., Ltd. Preparatory Office." In addition, Taiwan Power Company (TPC) also was an awardee of the incentive program after passing the special project review. Formosa Preparatory Office and Fuhai Preparatory Office signed a contract of demonstration incentive program with the Ministry of Economic Affairs on August 14 and August 22 of 2013 respectively to officially launch the demonstration incentive program.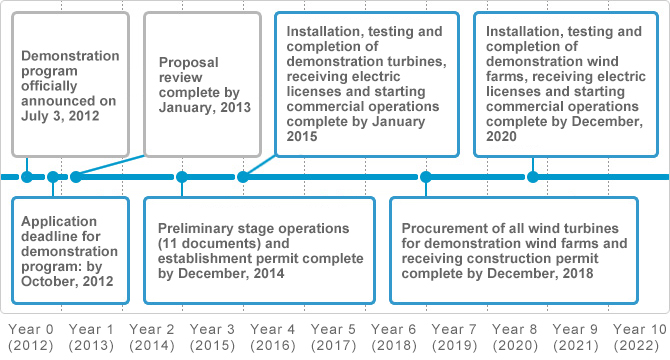 Introduction to Demonstration Wind Farm:

(please refer to applicant's proposal)


Fuhai Demonstration Case:
Location: Off the coast of Fangyuan Township, Changhua County
Offshore: 8~12 kilometers, water depth: 20~45 meters
WTs: 30 installed wind turbines
Capacity: About 120 MW


Formosa Demonstration Case:
Location: Off the coast of Zhunan Township, Miaoli County
Offshore: 1~5 kilometers, water depth: 15~30 meters
WTs: 32 installed wind turbines
Capacity: About 128 MW


TPC Demonstration Case:
Location: West side sea area of Fangyuan Township, Changhua County
Offshore: 5~8 kilometers, water depth: 15~ 25 meters
WTs: 22~36 installed wind turbines
Capacity: About 108 MW